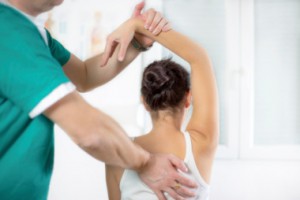 The demand for physical therapy services continues to rise with the aging baby boomers getting into the rehabilitation bandwagon. One unique attribute of the baby boomers is they are commonly leading active lifestyles and are well-informed about healthy choices and getting fit.
However, certain life-threatening diseases, such as strokes, cancers and diabetes, are also on the rise due to lifestyle and environmental changes of our times. The example of an active baby boomer who suddenly had a stroke would want to return to normal activity (such as playing golf or tennis) as soon as he or she could. Only rehabilitation, whether physical, occupational and speech therapies, can make that progression along with patient motivation.
Physical Therapy Job Outlook
According to the U.S. Bureau of Labor Statistics (bls.gov) website, a physical therapist's job outlook is projected to grow 36 percent from 2012 to 2022 while a physical therapy assistant's job outlook is to grow 41% from 2012 to 2022. It's not surprising that many aspire to begin a career in physical therapy but it does require some studying diligence.
As of 2014, entry-level therapists are doctorate degree holders. Those physical therapists who have earned bachelors and masters education have been "grandfathered" and are often considered for mentoring positions along with clinician expertise due to years of therapy practice. Nowadays, there are opportunities to advance education for these group.
Transitional degrees to doctorate level are offered by many colleges and universities all over the United States with a setup of distance learning, on-site campus or a combination of both. The distance/off-site education opportunity is tremendously helpful for those who are working full-time and studying during weekends or off-work.
An associate level transition to bachelors degree for physical therapy assistants has been offered in a few educational institutions, but check with the American Physical Therapy Association (APTA) whether these courses are recognized.
Because of the high demand for PTs and PTAs, there is high income potential with options to choose specialization and work setting. A physical therapist's median annual income in the United States is $79,860 in May 2012 based on the BLS site. Meanwhile, a physical therapist assistant's mean annual wage is $53,360 as of May 2013 on the same site. Income variations come from different factors including travel position versus permanent placement, urban versus rural locations and work settings such as home health physical therapy versus rehab facilities.
Physical Therapy is Constantly Evolving
Certain alternative treatment methods and principles that were not recognized under the physical therapy umbrella have been practiced and utilized modified for safer rehabilitation goals. A few examples include yoga/Pilates for flexibility and core strengthening and the use Wii console for promoting movement and correcting posture.
On the other hand, various modalities and techniques have been discontinued due to ineffectiveness. One example is the continuous passive machine (CPM) for knee replacements. I still hear several of my post-op TKA patients attesting to its usefulness, but multiple research studies show CPMs are not efficient physical therapy tools. Additionally, a CPM is classified as a PROM exercise, which all therapists know, is a nursing intervention.
Research and evidence-based practices are the driving forces that make physical therapy a dynamic profession. Thus, every professional in the medical field should show strong support in research, medical journals and best practices, especially those in the physical therapy profession, to ensure up-to-date information and for advancement in medicine. This will benefit the patients and of course, the credibility of any medical profession.