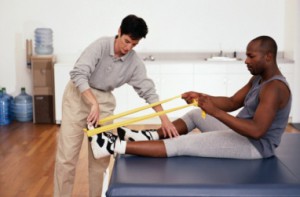 In this line of work, there are a few traits that make physical therapists effective in getting the job done. Here are five basic traits you need to excel in when working as a physical therapist.
Effective Time Manager. Once you enter the facility, a list of names is already prepared for the day's job. To be truly organized and productive, you need to be in control of the time and fully aware of how minutes are spent. There are always the hits and misses, but what matters is you adjusting to your schedule to manage the time efficiently. At the end of the day, you are measured not only by the units that you have covered but also by the level of patient satisfaction and overall outcome of patient care.
Passionate Learner. Physical therapy is an evolving profession where new concepts are formed and old concepts are tested. Textbooks get easily updated and old practices become obsolete. Personally, I have worked with Hubbard tanks and whirlpool tubs as part of wound protocols. But as most of us know, these modalities have gone out of the facilities due to their ineffectiveness and high incidence of infection rates. Make sure you do your research and conduct evidence-based studies to investigate what works or what does not. Possessing the passion for learning makes therapy more fulfilling since you can apply new techniques on a daily basis. It makes therapy time for patients fun and interesting. If you're s a passionate learner, you can easily earn more letters after your PT title to signify your level of expertise. Plus, your pay rate can improve when you're specialized.
Highly Adaptable. People were never made from the same mold. Working in this field, you are often are in direct contact with different personalities from all walks of life. And you often carry the challenge of understanding the patients to achieve functional goals. Regardless of patient background, an ideal physical therapist adapts, adjusts and understands the needs of patients to gain trust from them and their families. A truly talented therapist is able to create a professional relationship with the patient, and promote good rapport. As an adaptable physical therapist, you can venture to different work settings. Although physical therapy skills remain a constant regardless of work setting, work processes do differ in every facility or company. For example, documentation varies from one facility to the next. It takes a patient and you being a highly adaptable therapist to get the job done.
Team Player. In most cases, you work mostly alone to assess and evaluate a patient. However, working as a team player can get more out of patient outcomes if you communicate with the other interdisciplinary team members. As you interact with the surgeon, nurse, occupational therapist, speech therapist, orthotist/prosthetist and other allied professionals, the indirect result is the patient getting high quality healthcare throughout the interdisciplinary team. You will become a highly respected professional by being a good team player.
Being creative is a very important trait. Physical therapy is never black and white. There are situations when you will have to think of practical techniques to modify an exercise or routine that will make rehabilitation more interesting. As a licensed professional, you have to be within boundaries and keep in mind that patient's health and safety always come first. That's where our formal training comes in.
A good imagination makes for creative measures, especially when having to address economic challenges. In training post-op joint patients, I have used washcloths, pillow cases, bed sheets etc. to aid in certain movements to achieve a goal. Ideas are unlimited as long as a good therapist thinks out of the box.
About the Author
Joahnna Almero is a licensed Physical Therapist working as a full-time acute inpatient clinician and developing hospital-based patient care projects. She has a bachelors in Physical Therapy from Velez College and licensed to work in Florida, North Carolina and Texas.