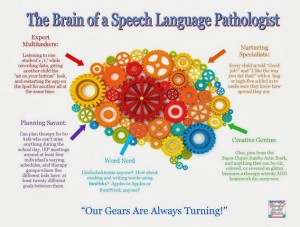 Have you ever wondered what the brain of a speech language pathologist is like?  Well 20 years has shown me that we need to use all of our mental resources.
In my case, as a home health speech therapist, I need to deal with shifting schedules, plan for my patients, perform treatments (I sometimes feel like I am putting on a floor show for my more recalcitrant patients!) take data, counsel parents, consult with doctors and other professionals and write reports.
No matter what setting you are in, many corners of your mind are stretched in this job. Here are the compartments of a functioning SLP brain:
1. Multitasking.  Perform therapy, modify behavior, take data, and keep goals in mind all at the same time.
2. Repository of SLP Expertise.  You may have clients with cleft palate, aphasia, apraxia, autism, hearing loss, dementia, dyasphagia augmentative communication and more!  That's why SLPs need to take continuing education to stay ahead. At times, it may seem like you need to know everything.  But remember, you've got colleagues.  Pick their SLP Brains too.
3. Knowing words and how to use them.  You need to describe how a client is articulating using phonetics and then explain this in plain English to their families and other "non" SLPs.  You have to have word lists of the sounds you're working on, synonyms, antonyms etc.  iPads and good old fashioned work books help here.
4. Cheerleading.  Give smiles, high fives, stickers, and hugs. Every client is important and they do better when we acknowledge their effort.  Remember, we all need encouragement!
5. Creativity.  Turn household items into therapy games.  You can sort and name clothes, hide and find toys and use prepositions in that task.  Having craft supplies are also helpful.  With adults, go over their photos.  They can tell you about their lives.  Everything we do involves language and can be therapeutic.
6. Flexibility.  Be ready to change activities, cuing techniques  and even goals as necessary. We have to meet our clients where they are at every visit.  We can't start treatment where we think they should be and do therapy "our way or the highway." A client may need more cues, a different room to work in, activities presented in a different order.  We need to take all this and more into account.  Sometimes what we want our client to do or achieve is not their highest priority. This can be for that visit, or for the treatment plan as a whole.  Always check with your clients and their caregivers as to what they want.  Check to see if there is carryover.
The brain of a Speech Language Pathologist can be a busy place. As SLPs, our therapy sessions center around brain and language function.  If you are a speech language pathologist and would like to give a "piece" of your mind, please do so in the comments below.