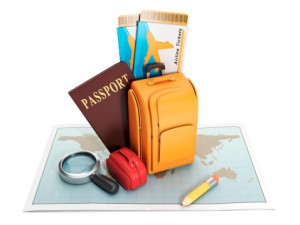 Traveling across the country as part of your career is a challenging but very fulfilling experience. Newbie healthcare travelers are especially enticed by the high income potential. For most veteran healthcare travelers, the flexibility and career opportunities keep them in this field.
As a former traveling physical therapist, the pros sometimes outweigh the cons. But depending on your personal views and work adaptability, a career in traveling physical therapy may not be for you. Here are my five tips to overcome these known challenges based on my experience.
1. Be assignment-ready.
Some traveling companies will set-up everything prior to your next traveling assignment. Unfortunately, no two traveling companies are alike. As a traveler, you need to create a checklist to ensure a smooth transition to the new assignment. Technically, these healthcare traveling agencies provide you with the job opportunities within your preferences. It is definitely best that you have constant communication to avoid future problems.
Also, prior to work, make sure housing accommodations and transportation issues are set up. Ask for your schedule, uniform and supervisor information in advance. Understand your benefits of what is covered under your agency and what your out-of-pocket expenses are.
Lastly, if you bring the family along in your traveling career, school or work considerations must be in place. Small kids and pets may need daycare arrangements. You may need to invest more time in researching the best services in your new area.
2. Identify major stressors.
If preparing for the assignment is not stress enough, the first work week in a new facility can bring many issues. Facilities usually give out orientation sessions which may be well-structured and organized or otherwise. Sometimes, hospitals and rehab clinics may not be accustomed to temporary staffing and may test your patience. Most commonly, these companies needing your services are too understaffed to spoon-feed your orientation. Be a fast learner and learn to be receptive to the needs of the workplace.
Anxiety is pretty common for experienced or newbie traveling therapists working in a new assignment. To combat this common stressor, never be afraid to ask questions. Try to get as much training as you can prior to your assignment, such as documentation software and specialized modalities. And if you're into this assignment on a mentoring program, allow yourself to adjust to your mentor's schedule and soak into the experience!
3. Carry a positive attitude.
New coworkers and different facilities create an opportunity for improvement as a good therapist. You get ahead in your career as you open yourself to challenges. By being positive, you adjust to frustrating situations converting them into rewarding experiences. You can always learn from your mistakes.
4. Exercise your strengths.
Usually, a traveling physical therapist is expected to adapt into the facility's work culture "flawlessly." A good traveling physical therapist knows his or her own strengths and weaknesses. By sharing your strengths, you demonstrate professionalism. They may consider your traveling experience as an asset by sharing effective work practices from other facilities.
5. Find a support system.
Having a good support system will make difficult transitions seem easier. If traveling with your family, make quality family time count. A best friend or a new work friend will make for a great stress reliever. You may explore fresh hobbies or recharge your active lifestyle in your new area. Your recruiter can be a good source of support especially dealing with work-related issues. Building a great relationship with your traveling agency's representative may open up too many prospects.