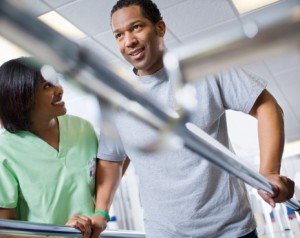 To be successful in the PT field, there are other not-so-new skills that are necessary to improve productivity. In this article, I'll be sharing the top four that have helped me in my physical therapy career over the years.
1. Typing. In this day and age, typing is considered ordinary and basic. We learned typing early in our lives. The younger set tends to adapt quite quickly with electronic documentation and most probably have lightning-speed fingers. However, an overwhelming population are index-finger typists and would rather hand-write progress notes.
The benefits of being an accurate touch typist include shorter documentation time and longer patient care contact. At the end of the day, the patient benefits. Touch typing is clearly a small step but vital if a therapist is pressed for time.
To enhance your typing skills, consider downloading a typing tutor software. Many products are available online as free or paid versions. Also, be more conscious of proper finger placement on the keyboard and using one favored thumb for the space bar.
 2. New Languages. Most of us have probably learned a secondary or tertiary language in school, but have you really perfected it? In fact, are you able to ask therapy-related questions in a different language?
Working in Florida has given me opportunities to use Spanish. I've been learning the language for a long time now but those gaps of not using it frustratingly bring me back to zero. My solution is to have a ready list of common expressions and questions especially geared towards doing PT evals until I have memorized them. As for patients' responses, I rely on translator phones or letting patients speak slowly.
One way to practice a new language is to talk with coworkers who speak the language and finding other like-minded individuals to be study buddies with. There's also continuing ed classes where you learn and earn credits. Also, you can do audio books, apps or sites that test your interaction like Duolingo, Livemocha, etc.
3. Yoga/Pilates. Back in my PT school days, yoga and Pilates were alternative exercises only for a specialized group of people. Recently, yoga/Pilates have been modified for therapeutic practices. Eventually, evidence-based research have brought the principles in the PT classroom. The therapist must be able to demonstrate core strengthening, breathing, timing and positioning to treat patients. However, this skill I am writing about is not for our patients but for the practicing therapist.
I've learned to appreciate Pilates for my back health. When transferring patients twice your size, you have to use proper body mechanics and transfer techniques. However, the therapist will eventually feel that ache somewhere in the body no matter how strong your bicep/tricep combo is. Before doing Pilates, I tried pain medications, hot/cold, Wiliams/Mckenzie exercises and even bought my own ultrasound unit. It relieved my pains but did not fix the problem.
Since practicing Pilates, my back has learned to brace using core muscles that were never really active prior. I feel stronger, leaner, and more flexible with improved posture. As with any exercise routine, I have more energy to last throughout the day.
4. Social skills. People really have different personalities but to be a PT, one needs to be a people person. You have to love interacting with people.
A patient once told me, "If you were selling me insurance, I would buy it now… I'll do your exercises at home!" That made me laugh but at the same time ponder. Physical therapists are somewhat salespeople giving patients pitches on why they need to do this and that. PT schools don't teach us how to be awesome salespeople, but in our hearts, there is that genuine interest to rehab our patients to help them reach their optimum levels.