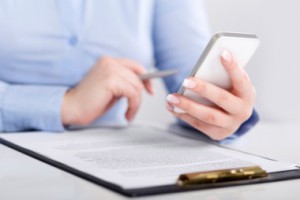 With the fast advancement of mobile computing readily available to the common people, it is undeniable that the smartphone generation has blurred the lines of age groups. A big chunk of the modern population has embraced technology and its benefits.
The world of physical therapy is no exception. Smartphone apps have flooded the market for the therapy professionals and our clients. Downloading the efficient ones from a hundred apps can be daunting and time consuming. So, I have come up with a short list of note-worthy apps that have already been tested in the market.
As with individual differences, these may require hands-on experience to fit your needs. Check with your current device's app market for an app's price and availability. Due to patient privacy concerns and work procedures, check also with your rehab facility about policies on carrying and using a smartphone at work.
Apps for Student PTs and Working Clinicians
iOrtho+ by Therapeutic Articulations (available on Apple and Android platforms) offers a reference guide for orthopedic tests and joint mobilizations techniques.
CORE (Clinical ORthopedic Exam) by Clinically Relevant Technologies (available on both platforms) provides a reference of more than 200 clinical tests for musculoskeletal and orthopedic disorders. It showcases videos and descriptions.
PubMedforHh by National Library of Medicine LHC (available on both platforms) allows access to medical journals for research and educational purposes. This makes patient education and communication with other health professionals more factual.
The Clinometer (avaliable on Apple platform) converts a phone into a goniometer by placing it directly on the patient. ROM Measurement, a similar app, is available on Android.
Google Translate (on both platforms) is a quick way to translate foreign words and phrases. I've personally used this to find words to verbally cue my non-English-speaking clients. They usually appreciate the effort.
Pandora (on both platforms). Yes, the music app! One elderly patient of mine was bored with gait training on a quiet hallway, and she lacked the retention with verbal cueing. She was a big fan of classical music, and I used this app to find a stream of wedding marches to keep with the pace and rhythm. The music provided the enthusiasm, and she demonstrated proper walking posture using a walker with minimal cueing!
An alternative to music is using a Metronome (available on both platforms) for rhythmic activities and establishing coordination.
Apps for Patients
WebMD (free on both platforms) is a great resource for basic health information. It is information but not diagnostic. Be sure to let your patients know that it is only a tool, and not a physician or a licensed professional substitute.
Skyscape Medical Resources (free on both platforms) also provides a database of diseases and symptoms, journal summaries and clinical breaking news. It also has an RXDrugs app that offers information on medications, interaction information, dosing calculators and even photos of the medicines. A caveat: this app takes a chunk out of your memory space.
There are probably more apps worth-mentioning that are not in this list. And it's good to know that the app world is always evolving and growing, making our therapy lives more interesting and effective.