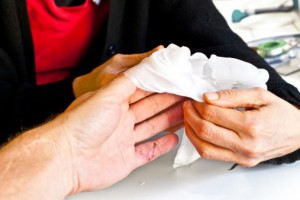 Working as a clinician comes with the advantages of connecting with people on a daily basis and directly impacting the lives of others. At times, maintaining a professional, neutral relationship can be challenged when you're faced with uncomfortable requests. What should you do when these tricky scenarios present themselves? Keep the following in mind.
Be Clear from the Beginning
If a client texts you for therapy-related advice at 11pm on a weekend, and you respond, your client will conclude that is an acceptable time to reach you. If you're okay with this and open to being reached on-demand, then continue as long as it works for you. If you find yourself irritated, wait until you're officially on-the-clock to respond to them. I keep a separate work number through Google Voice forwarded to my personal cell only during work hours. After-hours though, it's forwarded straight to voicemail.
I once encountered a very rare situation where a client asked me to borrow money. It was unexpected, and I was immediately uncomfortable and responded that I didn't have any cash on me. After reflecting on it later, I wish that I had felt comfortable enough to say no, and not act apologetic. It was as if I implied that if I did have money on me I would have given it to them. In situations like this, where a client requests something you aren't comfortable with – and which may not be legal – you can always explain that it would go against policy and ethical guidelines, and that you could lose your license. All licensed occupational therapists are bound by a set of ethical guidelines. If you think you're in a gray area, use your best judgment and error on the side of caution in that moment. For less immediate issues, talk it over with a colleague, supervisor or mentor.
Gifts
Gifts of appreciation tend to peak during the holidays or when clients are discharged from therapy. Cards, thank-yous or small gifts of no substantial monetary value are generally okay, but some company policies don't allow employees to accept gifts, so know what's acceptable in your situation. Beyond policies, know where your line is. What might make you uncomfortable? If a client gives you a large gift and sentimental card, will you feel like you owe them more time and favors than a client you did not give a gift? We know that this wouldn't be ethical, so know how to respond appropriately. If you feel someone has gone too far, you can politely let them know that you can't accept it.
Clients Becoming Friends
I love when I make a connection with a client and their family. They'll show me pictures from a recent trip, and I'll plan activities around a cultural holiday they celebrate. When things are smooth-sailing, it's usually no problem to be friendly. However, imagine if some of your best friends happened to be you clients. Things can get tricky when a client wants an increase in services or a letter of justification for therapy equipment. Treating them as friends can add to the confusion of how you treat them. Remember that friendships are a two-way street: both parties give and receive support, but therapeutic relationships aren't designed to work in the same way.