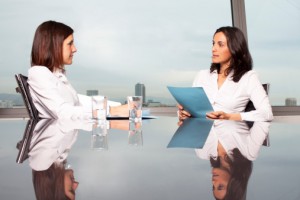 For an occupational therapist in the U.S., job opportunities are abundant. Earlier this year, Time magazine named Occupational Therapy one of the top 5 most in-demand jobs right now. With so many opportunities, you have the privilege of being selective and there's less pressure to accept the first standing offer.
Landing a job interview can be an opportunity to not only market yourself but to find out if it's going to be the right fit for you. Luckily, you can accomplish both by asking the right questions.
Here's a look at topics to ask about during your next occupational therapy job interview.
1. "What would my typical workday look like?"
The response can be telling. You don't always get to observe other therapists in a potential job role, so sometimes the next best thing is hearing a play-by-play of the workday. If the answer is still vague, ask:
"What's expected when I arrive in the morning?"
"How many clients will I be seeing daily?"
"Is there time set in my schedule to complete documentation?" If not, be prepared to take work home with you. Which leads to your follow-up question…
2. "What is the documentation and paperwork system like?"
Documenting client status, progress and session notes are critical in examining the effectiveness of therapy, not only for you and the patient but for the payment provider (i.e., often insurance). It's no wonder it ends up taking a significant amount of your time, but it's important to find out what their system is. Find out if they use databases (name ones you are familiar with – they'll appreciate that you're exposed to it). Ask if these systems are accessible from home computers/devices/tablet, or if you're limited to documenting at a workstation computer.
Keep in mind, you don't want to come across as someone who fears copious amounts of paperwork, so if you're afraid of sounding negative, follow-up by adding, "I'd like to see how therapists here manage their clinical and documentation time efficiently."
3. "What is the average caseload size for an OT here?"
Find out how many clients you'll have on your caseload. If it's a fast-paced setting (i.e., hospital acute care), you may be seeing many clients back-to-back over a 2-3 day span, then discharging them. If you're working in a school setting and told you'll have 40 students on your caseload, find out how many of those are direct clients (i.e., seen individually or in group) and how many are consultative (completed much less frequently than direct, so less time consuming). Sometimes, employers will have their new OTs gradually build a caseload. Find out what your options are and what they prefer.
4. "What steps do you take as an employer to ensure OTs here are continually growing and learning professionally?"
Many employers cover a portion or all of the cost of continuing education. Some employers may have on-site trainings or certifications that can count toward CEs. OTs may be asked to be part of research, educate staff during in-services, or educate the community.
5. "What supervision is available?"
Is your OT supervisor at your work-site regularly or offsite? How often are you expected to meet? Find out if you have formal meetings or occasional emails and calls. When starting a new job, it's important to know who to check in with and where you can direct your therapy-related questions.
When your interviewer asks if you have any questions during the wrap-up, keep these in mind so you can gather as much information as possible and make a wise decision later!