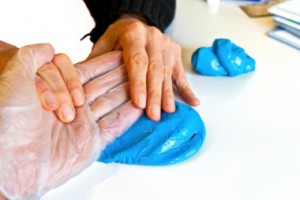 Whether you're meeting a new client or taking on a new occupational therapy job, a first impression can make all of the difference. Often, OTs work with more than just the client, so it's important to make a good impression to everyone involved right off the bat.
Your client (their family members included) may have no idea what to expect on the first session. Or maybe they've had a therapist ages ago and assume you will be pretty much the same. They may be excited and think you have all of the answers, or they might be pessimistic about therapy itself. Some people have misconceptions about certain types of occupational therapy or program effectiveness, so it's important to be communicative and clear when you first meet.
Meeting the Family
With all populations, you often see a patient after an injury or a difficult time. As an occupational therapist, you may meet parents, family and caregivers when they're feeling vulnerable and have a lot of questions. When working in pediatrics, parents are often very concerned about their child's development and can be experiencing a lot of anxiety and stress around the subject. It's important to be very calm and put them at ease. You want them to feel comfortable with you and establish a good rapport in the beginning in order to make progress later. If you're having a phone conversation before you meet, smile on the phone – they'll hear it in your voice!
Lay Out Expectations
It's very possible your client hasn't had occupational therapy before, and even if they have, every situation, treatment sessions, and therapist is different. So, it's helpful to prep them a bit before the first session. If given a choice, they might want to know what to wear (i.e. loose-fitting clothing in outpatient rehab where they'll be moving) or what to bring (i.e. insurance card, previous evaluations if applicable). Because going into homes is a much more private, intimate setting, even just a sentence or two letting them know what to expect can ease apprehensions.
If working with kids, for example, you may tell the parent that you plan to do a few activities with both the parent and child present so the child can warm-up to you and feel secure. Then you can see how things go from there.
Introduce Yourself to Other Professionals
It's not uncommon for clients to receive more than just occupational therapy services. Whether it's a speech therapist, orthotist, neurosurgeon, or counselor, it's helpful for these professionals to know who you are when you reach out to them. In some instances, such as a school setting, it's a good idea to contact them when you first start working with your client. Send an email, leave a voicemail, or walk to their desk and introduce yourself. This way, they can give you valuable suggestions going forward (i.e. benefits from labeled objects in the classroom), and they'll likely be more receptive of your OT recommendations in return.
Be a Great Listener
The first time you meet a client, you want to be doing most of the listening. One of the biggest mistakes therapists can make is to start treating before you start assessing. It's understandable that as an OT you have so many treatment ideas in your pocket, and you want to pull them out and start helping them! But from the client and family perspective, they're only going to start hearing your recommendations once they know you've heard their concerns.
About the Author
Laina Karosic, OTR/L, graduated from Penn State University with a B.S. in Rehabilitation and Human Services. She then completed her Master's Degree in Occupational Therapy at Ithaca College. She has worked with children and adults in clinics, homes, schools and community-based settings. Laina presented at American Occupational Therapy Association (AOTA's) national conference in 2014 discussing the role of Occupational Therapy in Sustainability. The emerging practice area of ergonomics is a particular niche of hers, and she is continuing competency and certifications within this area.