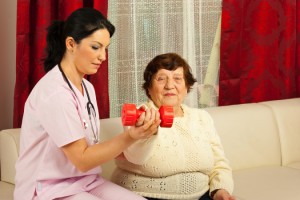 One of the top questions for occupational therapists is "How is occupational therapy different from physical therapy?"
Occupational therapists help people regain the skills needed to live as independently as possible. They help people function again in their activities of daily living, such as grooming, managing health, caring for their home, dressing, cooking, and eating. Because people often use their hands for these things, it's mistakenly believed that OTs only focus on "the hands". If clients experience interference with function, OTs can typically help, regardless or hands being involved.
Physical therapists, on the other hand, focus on posture and positioning, movement, and mobility, so they address skills like strength, endurance, and balance. These areas can still involve hands and arms, such as gripping a cane correctly, but PTs aren't limited to addressing the lower extremities, the same way OTs aren't limited to working with the upper extremities.
Below are a few scenarios of clients who receive both occupational therapy (OT) and physical therapy (PT) and how treatment sessions differ.
SCENARIO 1: A 5-year-old student has hand weakness, causing difficulty with grasping his pencil and opening containers. He slouches at his desk, writes illegibly, and strains his neck to look up at the board, all due to poor trunk strength. The student also has poor motor coordination, and his teacher reports he frequently trips in the hallways and bumps into classmates.
PT Session: A PT would work on navigating the hallways and stairs safely. Treatments could include practice balancing on each foot during a game, and navigating obstacles while maintaining good posture/balance. PT sessions could also address core strengthening to promote improved stability and  sitting posture.
OT Session: An OT in this scenario could work on improving hand strength (i.e., play dough activities, tweezer activities to practice grasping). Because a weak core can also cause problems functioning distally, an OT may work on core strengthening activities such as crab-walking. A strong core promotes optimal positioning of the trunk, neck, head, shoulders, and wrists for writing and other tabletop activities. In this way, the two disciplines can overlap, but the reasoning and approach do differ.
SCENARIO 2: A client is being seen in outpatient rehab after a knee replacement. When discharged after surgery, the client was instructed to "Take short, frequent walks," and "Don't squat down to the floor".
PT Session: Some of the client's goals may be regaining range of motion at the knee joint after the stiffness from surgery. The PT may have the client stretch the knee from flexed to straightened and back again, while monitoring for pain. If they're having trouble getting up from the couch, the PT could focus on quad strengthening and arm strengthening (to push up) in safe, approved ways. A PT can teach the patient how to walk safely with a cane and which leg to step with first.
OT Session: Since the client is having trouble getting up from the couch, the OT may suggest strategies. These may include scooting to the front of the couch, then using their hands to push off of the arms. An OT might suggest raising the height of the seat by adding firm cushions. An OT can also work with a patient to plan out the best times of the day to take walks and the best places, like areas with benches and arm rests.
Truthfully, an OT's role can vary vastly depending on the work setting, and the same can be said for PT.  While there can be similarities, the distinction and need for both is crucial for all aspects of recovery.
About the Author
Laina Karosic, OTR/L, graduated from Penn State University with a B.S. in Rehabilitation and Human Services. She then completed her Master's Degree in Occupational Therapy at Ithaca College. She has worked with children and adults in clinics, homes, schools and community-based settings. Laina presented at American Occupational Therapy Association (AOTA's) national conference in 2014 discussing the role of Occupational Therapy in Sustainability. The emerging practice area of ergonomics is a particular niche of hers, and she is continuing competency and certifications within this area.