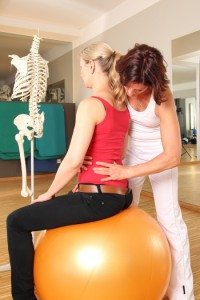 As an occupational therapist, you provide a skilled service, and yet can do so many different types of work with your degree. You're trained in anatomy, human development and activity analysis, preparing you to work in an array of environments.
Even after schooling, you can gain certifications, take courses, and do your own research on specialty areas to expand on what you're taught in school.
As technology advances and society's needs grow due to current events and new discoveries, occupational therapists must respond proportionally.
The profession is in fact responding by expanding into relevant areas. Here are just a few emerging practice areas that may be less commonly heard of but are expected to grow!
1. Ergonomics
When working in ergonomics, an OT takes a close look at the task, the person, and environment and recommends ways an activity can be completed more efficiently and safely. OTs have the ability to break down a task and look at all components involved. This allows them to spot fine details that could be problematic. Example ergonomic recommendations may include:
Repositioning desk/chair/keyboard to promote adequate posture and decrease risk for repetitive stress injuries (RSIs) such as carpal tunnel
Education on proper lifting techniques, stretch breaks
2. Aging in Place
Given the aging baby boomer generation, services related to older adults are expected to blossom. More older adults are rejecting the idea of institutionalized care (i.e., nursing homes) and instead are remaining in their homes. Your clients' homes are unlikely to have all the safety and functional features found in a hospital treating the elderly. An OT can evaluate a client's living space and make recommendations such as:
Removing clutter/throw rugs to reduce fall risk
Rearranging cabinets and end tables to keep often-used items easy to reach
Adaptive equipment such as a walker or shower chair
3. Health Promotion and Prevention
The rise of obesity is generating a role for OTs to educate and provide strategies in order to promote healthy lifestyles and positive habits. Additionally, healthcare changes are trending toward supporting the costs of proactive wellness and health initiatives.
For example, OTs might sit down with a client and help create a daily routine that involves realistic, achievable health goals, like walking during lunch and packing healthy food the night before, as well as recommending strategies like calendars and apps to monitor progress and increase self-awareness.
4. Adaptive Equipment and Technology
The rise of technology means huge implications for the healthcare and biomedical industries, and occupational therapists are no exception. OTs are trained to evaluate clients and fit devices to the person. If you're an OT, you know it's more than prescribing a one-fits-all catalog item, but instead about finding or designing specific features of a product to meet clients' needs.
An OT might help someone with Parkinson's-related tremors obtain a utensil with movement sensors and the right grip and weight to help them eat independently.
These are just a few examples of the expanding profession of occupational therapy. Are you looking to get into one of these areas yourself? Network with OTs in the niche and pursue a mentor who inspires you. Take continuing education in these fields and link up with not only OTs but other professionals in these areas. You can become involved with the new and exciting areas of occupational therapy in more ways than one.
About the Author
Laina Karosic, OTR/L, graduated from Penn State University with a B.S. in Rehabilitation and Human Services. She then completed her Master's Degree in Occupational Therapy at Ithaca College. She has worked with children and adults in clinics, homes, schools and community-based settings. Laina presented at American Occupational Therapy Association (AOTA's) national conference in 2014 discussing the role of Occupational Therapy in Sustainability. The emerging practice area of ergonomics is a particular niche of hers, and she is continuing competency and certifications within this area.