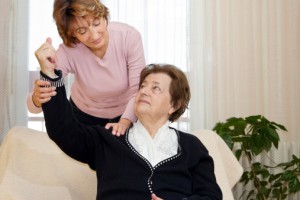 Occupational therapists (OTs) can practice in a variety of settings, from community-based to more institutionalized environments. Typically, the specific population receiving OT determines the type of setting where services are provided.
If you're in the field yourself, you may be drawn to working with children, adults, the elderly, or a combination of these. It's not uncommon to move through different settings throughout your career, and some OTs even work in multiple settings at once! Here's a look at some of your options:
1. Outpatient Clinics
Some outpatient clinic services have the space and equipment for a sensory motor gym, where mostly pediatric patients are seen. Early Intervention (EI) centers can also take place in a clinic, treating children aged birth – 3 years. An outpatient clinic that focuses on orthopedic or neurological deficits after injury or operation typically treats more adults.
Professionals from other disciplines may share the clinic space with the OT, such as physical therapists, speech therapists, orthotist and physicians. An OT can also work in mental health, helping clients become more independent at an outpatient psychiatric clinic.
2. Home Health
Your work setting as an EI therapist is often the child's home, which has the advantage of working on goals in a natural environment. Along with servicing EI cases and other children who qualify for home care, OTs can work with adults in their home. This may be due to their limited mobility and difficulty getting out of the home for therapy.
As a home health occupational therapist, you might be seeing a patient after they're home from a knee-replacement surgery to ensure they can function in their home. You might see a patient after a fall to provide adaptive equipment and educate them on safe strategies and modifications. Usually, working in the home provides an in-depth look at your client's natural habits and routines.
3. Schools
A school-based occupational therapist can work in preschools, elementary and secondary schools. Typically, therapy here focuses on addressing issues affecting children's ability to complete functional tasks related to academics. If students are older, you may act at the community level and assist in transition planning, vocational training or job placements.
Some school sessions are held in a separate therapy room for OTs and other therapists. Other times, an OT may do a "push-in" session (i.e., providing strategies to help a child succeed while they participate in their scheduled classroom lesson with peers).
4. Hospitals
Many occupational therapists work in hospitals, including acute care rehabilitation, sub-acute rehabilitation, and outpatient. Several hospital programs require occupational therapists (along with the other health providers) to rotate through each of these rehab areas every few months so that they can maintain their clinical knowledge.
5. Community-Based
In addition to homes and clinics, occupational therapists treat clients in various community-based environments, including adult day centers, group homes, treatment centers, and other community support programs. Common areas addressed by OTs here include activities of daily living (ADLs), self-efficacy, and education on strategies to increase independence.
6. Senior Living
Older adults experience a variety of age-related changes, which can make activities that were once second nature (i.e., buttoning, remembering where personal items are located), very challenging. An occupational therapist may work in senior day centers, assisted living facilities, and nursing homes to help provide the elderly with strategies in order to promote optimal functioning. Often, this requires collaboration and education with family members and caregivers.
Roles and job responsibilities will change depending on the setting. While these are some common examples of practice settings, new areas are continuing to emerge as society's needs evolve over time.
About the Author
Laina Karosic, OTR/L, graduated from Penn State University with a B.S. in Rehabilitation and Human Services. She then completed her Master's Degree in Occupational Therapy at Ithaca College. She has worked with children and adults in clinics, homes, schools and community-based settings. Laina presented at American Occupational Therapy Association (AOTA's) national conference in 2014 discussing the role of Occupational Therapy in Sustainability. The emerging practice area of ergonomics is a particular niche of hers, and she is continuing competency and certifications within this area.